Preschool Programs
3 years to 5 years
Color Recognition
Learning about color is a significant skill for preschoolers. We will expose your child to colors through paints, crayons and object colored cards.
Number Recognition
We will offer a variety of pattern projects, understanding quantity, number sense, shapes and measurements.
Social Skills and Manners
We will help children develop social skills through learning to share, take turns, impulse control by building cooperative play with other children. Manners are introduced through cultural dining experiences and family style meals at our preschools.
Sight Words and Literacy
In the very early stages of learning to read children can learn some beginning sight words. The first beginning sight words are important words to the child. We will expose your child to their name, letters, word knowledge, concept of print and phonological awareness.
Large Motor Skills – P.E.
Preschool children use both large and fine motor skills. We provide parachute play, bikes, balls, and large climbing structures for the children to really get creative outdoors.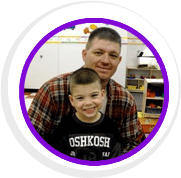 Jason H.
Awesome school! N.L.D.S. has great teachers, curriculum and environment.
I highly recommend N.L.D.S. to anyone looking for a quality preschool for their children.