Toddler Program
18 months to 2 years
Large Motor Skills
Toddlers are very curious and independent children that love to pretend and explore their surroundings. Their exploring begins with simple jumping, climbing, and scribbling. N.L.D.S. provides outdoor play structures and memorable activities to enhance their large motor skills.

Social Skills
At New Life Discovery Schools, toddlers learn to become individuals through personal experience. There is no such thing as mistakes; only a different route to getting things correct. Just like with the infants, the staff uses correct language while speaking with our toddlers in everyday activities such as cleaning up, snack time, or toileting. This is done to encourage language development. They will also learn how to dress and feed themselves, while making choices to help them become independent.
Eye Hand Coordination
At N.L.D.S. our Discovery Plans help toddlers be creative while making arts and crafts and to learn through creative science experiments. We also offer other activities for the children such as dramatic play, story time as well as blocks, in which imagination is the main component. Through group activities, toddlers learn to share and respect others; vwith individual play they strive to be imaginative and independent.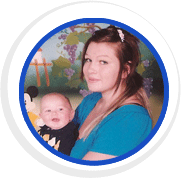 Kimberlee L.
My name is Kimberlee, my sister, four cousins and I went to New Life on Dakota and West. I started when I was 2 and went until I was 7or 8. I also attended the Keats Center, I enjoyed going to New Life, and the best thing I liked about the center was learning my ABC's, shapes, colors and playing with my friends.
Many of my nieces and nephews have gone to New Life and now my son is attending the Clovis Center. He always has a smile and he never cries when I drop him off. I feel comfortable leaving him and the staff is really nice; I feel that they take good care of my son.